I grew up on the East Coast, although I spent a few ear­ly years in the Mid-West, enough time to remem­ber corn­fields and farm silos. Now I'm back in the Mid-West. I live in Minneapolis, Minnesota and have for more than thir­ty years.

As a kid, I enjoyed the out­doors, hik­ing and camp­ing. You can do a lot of good day­dream­ing hik­ing up a mountain.

I've been a read­ing spe­cial­ist, a class­room teacher, a writer and edi­tor for class­room cur­ricu­lum mate­ri­als, an edu­ca­tion­al soft­ware design­er, a writer-in-residence, and an author. All these jobs demand­ed imag­i­na­tion, writ­ing skills, and patience with the cre­ative process.

When I was a kid, I loved to read biogra­phies and his­tor­i­cal fic­tion. I still do. That's prob­a­bly why I majored in his­to­ry in col­lege. I also have a Master's Degree in Education and a MFA in Writing for Children and Young Adults.

When I was in sixth grade, I won a writ­ing con­test. My sto­ry was about adven­tures trav­el­ing west on the Oregon Trail.

In real life I've nev­er fol­lowed the Oregon Trail, but I do enjoy trav­el­ing. I've trav­eled around the U.S., vis­it­ed many coun­tries, and have lived in Hong Kong, New Zealand, and England. Traveling has taught me to lis­ten care­ful­ly to the sto­ries peo­ple tell me. After I returned from a trip to Tanzania, I wrote a book for kids about my trip to the Serengeti Plain. When I was in Hong Kong, I wrote arti­cles for kids about Bird Street. When I lived in England, I wrote about peo­ple who had sur­vived the bomb­ings dur­ing World War II. When I trav­eled to Japan, I wrote about Sachiko Yasui, her mirac­u­lous sur­vival of the atom­ic bomb­ing of Nagasaki and her long jour­ney toward peace. All my expe­ri­ences in life and work had pre­pared me for writ­ing Sachiko's story.

I have two grown chil­dren, Aaron and Beth. As they grew up, they taught me a lot about life and love. So has my hus­band, Kim.

My father taught me a lot about life and love too. He died of Alzheimer's in 1998 and is buried at Arlington Cemetery in Washington D.C. Dad nev­er told me much about his World War II expe­ri­ence in the infantry, fight­ing through Germany. I was so star­tled by the full mil­i­tary hon­ors giv­en to my father at Arlington Cemetery that after­ward I start­ed research­ing his mil­i­tary his­to­ry. I've been read­ing about World War II and col­lect­ing sto­ries ever since.

As part of my research for the book Sachiko, I inter­viewed ninety-three-year-old World War II vet­er­an Captain Orval Amdahl from Lanesboro, Minnesota about his expe­ri­ence fight­ing in the Pacific. Orval was on a U.S. naval ship that was first into the Nagasaki Harbor after Japan sur­ren­dered. After the inter­view, Orval showed me a Japanese sword he had brought back home as a war "sou­venir." He told me he had been oil­ing the sword for 67 years wait­ing to find a way to return the sword to its right­ful own­ers. Luckily, the sword still had a "sur­ren­der" tag hang­ing from its scab­bard with the family's address writ­ten on it in clear Japanese char­ac­ters. It turned out the owner's fam­i­ly lived in Nagasaki. With the help of the Saint Paul-Nagasaki Sister City Committees, Orval Amdahl was able to return the sword to the Motomura fam­i­ly, "in peace, with hon­or," just as he had wanted—all because of Sachiko's story.

What have I learned about sto­ries? I believe per­son­al sto­ries, large and small, have the pow­er to make a dif­fer­ence. Stories that find their way to our hearts can give us strength and help us to find peace in our­selves and in the world.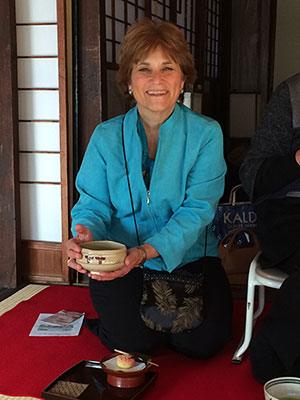 Caren Stelson, a tea ceremony