Sachiko: A Nagasaki Bomb Survivor's Story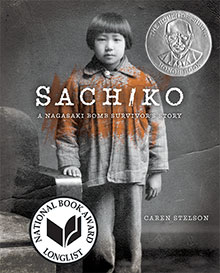 writ­ten by Caren Stelson
Carolrhoda Books
ISBN 978–1467789035, grades 5–12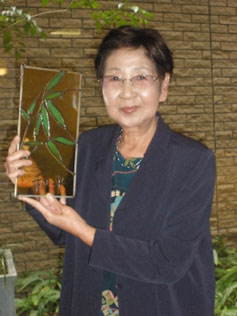 I am sad to share the news that my dear friend Sachiko Yasui passed away in September 2022 after a long strug­gle with the effects of a stroke. Knowing Sachiko and her sto­ry changed my life. Philosopher Martin Buber said, "All real liv­ing is meet­ing." I tru­ly met Sachiko and learned how a per­son can face the cat­a­clysmic vio­lence of war and trans­form that trau­ma into love. The force of that love not only changes the per­son, but changes others—and that is what changes the world. Sachiko Yasui's spir­it inhab­its the pages of the book we worked on togeth­er and in each per­son who reads her sto­ry. (Caren Stelson)
This strik­ing work of nar­ra­tive non­fic­tion tells the true sto­ry of six-year-old Sachiko Yasui's sur­vival of the Nagasaki atom­ic bomb on August 9, 1945, and the heart­break­ing and life­long after­math. Having con­duct­ed exten­sive inter­views with Sachiko Yasui, Caren Stelson chron­i­cles Sachiko's long jour­ney toward peace. This spe­cial book offers read­ers a remark­able new per­spec­tive on the final moments of World War II, the fifty years that fol­lowed, and the courage it took for one woman to tell her sto­ry of nuclear war and peace.
2017 Robert F. Sibert Honor Award for Information Books, ALSC
2017 Bank Street College Best Children's Books of the Year List
2017 Bank Street College of Education Flora Stieglitz Straus Award
2017 Notable Children's Books, ALSC
2017–2018 ALA-CBC Reading Beyond List
2016 American Library Association Notable Book
2017 Booklist Top 10 Diverse Nonfiction for Youth
2017 CCBC Choices
2016 Cybils Award for Middle Grade Non-Fiction
2016 Eureka! Nonfiction Children's Book Award
2017 Jane Addams Children's Book Award for books for old­er children
2017 Minnesota Book Award final­ist, Middle Grade Literature
2016 Junior Library Guild selection
2016 National Book Award Longlist, Young People's Literature
2016 National Consortium for Teaching About Asia, Freeman Book Award,
Honorable Mention, Young Adult/High School Literature
2016 Nerdies: Long-Form Nonfiction
2016 New York Public Library Best Books for Teens
2017 Notable Books for a Global Society
2017 Notable Social Studies Trade Books, NCSS, CBC
2017 Orbis Pictus Award for Nonfiction, Recommended Book, NCT
An inter­view with Caren Stelson
As Fat Man hurled toward the city of Nagasaki on August 9, 1945, Sachiko Yasui, 6, was play­ing house. She ducked for cov­er, awak­ing hours lat­er just "half a mile from the [bomb's] hypocen­ter,", buried beneath moun­tains of debris, her mouth clogged with ash. Stelson first heard Sachiko speak in August of 2005. From 2010–15, Stelson trav­eled to and from Nagasaki, con­duct­ing a series of five inter­views with the sin­gu­lar Sachiko. The result is a sto­ry of stag­ger­ing hard­ship and extra­or­di­nary resolve. In it, Stelson out­lines the plight of Sachiko, her fam­i­ly, and oth­er hibakusha ("explosion-affected peo­ple"), from the Yasui's' lengthy trek to safe­ty in near­by Shimabara and dec­i­mat­ing radi­a­tion sick­ness, to the gru­el­ing restora­tion of a bar­ren city. The nar­ra­tive is fur­ther sup­ple­ment­ed by two-page edu­ca­tion­al tid­bits, inter­spersed through­out. Here, Stelson address­es the Japanese gov­ern­ment, Emperor Hirohito and prime min­is­ter Hideko Tojo, intern­ment camps, the U.S.'s sti­fling occu­pa­tion of Japan, and "long-term effects of radi­a­tion." With Sachiko for­ev­er in the fore­ground, read­ers learn of her griev­ous loss, devo­tion to edu­ca­tion, regard for peace (and its devo­tees: Gandhi, Martin Luther King, Jr., Helen Keller), and her fair­ly recent deci­sion to give voice to her expe­ri­ences. Sachiko and her sto­ry, much like the resilient Nagasaki cam­phor trees she so admires, are an indeli­ble force. Luminous, endur­ing, utter­ly nec­es­sary. —Briana Shemroske
School Library Journal, starred review
Gr 5–8–Sachiko Yasui was just six years old when the atom­ic bomb was dropped on her home­town of Nagasaki. On August 9, 1945, she went from play­ing house with her friends to bury­ing them. Yasui also lost a broth­er that day and would lose many more fam­i­ly mem­bers because of radi­a­tion sick­ness. Growing up, she was ostra­cized for her sta­tus as hibakusha, a bomb sur­vivor. Despite her trau­ma and the bul­ly­ing she faced, Yasui endured. She sought out inspi­ra­tion from the likes of Helen Keller, Mohandas Gandhi, and Martin Luther King Jr. Their works allowed her to make peace with the events in her life. Stelson recounts hear­ing Yasui speak at a cer­e­mo­ny to com­mem­o­rate the 60th anniver­sary of the bomb­ing of Hiroshima and Nagasaki. This event would spark a long and inti­mate process in which Stelson repeat­ed­ly met with and inter­viewed Yasui in order to tell her sto­ry. Frequent his­tor­i­cal notes pro­vide con­text to the events hap­pen­ing in the nar­ra­tive: Japan's role in World War II, the issue of racism in the war, President Truman's ulti­ma­tum, the effects of radi­a­tion sick­ness, the U.S. occu­pa­tion of Japan after the war, and more. Back mat­ter includes a glos­sary of Japanese terms used in the book and detailed maps of where events took place. VERDICT This sen­si­tive and well-crafted account of a Nagasaki bomb sur­vivor is an essen­tial addi­tion to World War II biog­ra­phy col­lec­tions for mid­dle school stu­dents. —Deidre Winterhalter, Niles Public Library, IL
School Library Journal, reviewing the audio book, starred review
Chapters that recount the sto­ry of her life alter­nate with chap­ters of his­tor­i­cal overview and facts. This is one of the many out­stand­ing aspects of this book. In the audio ver­sion, these chap­ters are read by two dif­fer­ent nar­ra­tors, Katherine Fenton and John Chancer. The vocal dif­fer­ences among the char­ac­ters are com­pelling, and Fenton does a superb job with the Japanese pronunciation.
Caren Stelson met Sachiko Yasui in Minneapolis in 2005 and made five trips to Japan to inter­view her. While the book con­tains his­tor­i­cal notes, infor­ma­tion­al side­bars, pho­tographs and maps, most of the nar­ra­tive is Sachiko's account, mag­net­ic and chill­ing in its sim­plic­i­ty. Stelson lets Sachiko become the hero of her own sto­ry; her qui­et sur­vival is an inspir­ing tra­jec­to­ry of redemp­tion. —Kimberly Brubaker Bradley, author of The War That Saved My Life
The story's first-person account and deep sense of human­i­ty offer young read­ers a chance to grap­ple with the hard truths of war. —Trisha Collopy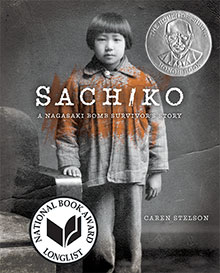 Sachiko: A Nagasaki
Bomb Survivor's Story
writ­ten by Caren Stelson
Carolrhoda Books
ISBN 978–1467789035, grades 5–12