Sachiko: A Nagasaki Bomb Survivor's Story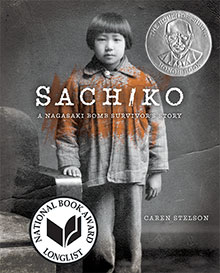 written by Caren Stelson
Carolrhoda Books
ISBN 978-1467789035, grades 5-12
This striking work of narrative nonfiction tells the true story of six-year-old Sachiko Yasui's survival of the Nagasaki atomic bomb on August 9, 1945, and the heartbreaking and lifelong aftermath. Having conducted extensive interviews with Sachiko Yasui, Caren Stelson chronicles Sachiko's long journey toward peace. This special book offers readers a remarkable new perspective on the final moments of World War II, the fifty years that followed, and the courage it took for one woman to tell her story of nuclear war and peace.
2017 Robert F. Sibert Honor Award for Information Books, ALSC
2017 Bank Street College Best Children's Books of the Year List
2017 Bank Street College of Education Flora Stieglitz Straus Award
2017 Notable Children's Books, ALSC
2017-2018 ALA-CBC Reading Beyond List
2016 American Library Association Notable Book
2017 Booklist Top 10 Diverse Nonfiction for Youth
2017 CCBC Choices
2016 Cybils Award for Middle Grade Non-Fiction
2016 Eureka! Nonfiction Children's Book Award
2017 Jane Addams Children's Book Award for books for older children
2017 Minnesota Book Award finalist, Middle Grade Literature
2016 Junior Library Guild selection
2016 National Book Award Longlist, Young People's Literature
2016 National Consortium for Teaching About Asia, Freeman Book Award,
Honorable Mention, Young Adult/High School Literature
2016 Nerdies: Long-Form Nonfiction
2016 New York Public Library Best Books for Teens
2017 Notable Books for a Global Society
2017 Notable Social Studies Trade Books, NCSS, CBC
2017 Orbis Pictus Award for Nonfiction, Recommended Book, NCT
An interview with Caren Stelson
As Fat Man hurled toward the city of Nagasaki on August 9, 1945, Sachiko Yasui, 6, was playing house. She ducked for cover, awaking hours later just "half a mile from the [bomb's] hypocenter,", buried beneath mountains of debris, her mouth clogged with ash. Stelson first heard Sachiko speak in August of 2005. From 2010–15, Stelson traveled to and from Nagasaki, conducting a series of five interviews with the singular Sachiko. The result is a story of staggering hardship and extraordinary resolve. In it, Stelson outlines the plight of Sachiko, her family, and other hibakusha ("explosion-affected people"), from the Yasui's' lengthy trek to safety in nearby Shimabara and decimating radiation sickness, to the grueling restoration of a barren city. The narrative is further supplemented by two-page educational tidbits, interspersed throughout. Here, Stelson addresses the Japanese government, Emperor Hirohito and prime minister Hideko Tojo, internment camps, the U.S.'s stifling occupation of Japan, and "long-term effects of radiation." With Sachiko forever in the foreground, readers learn of her grievous loss, devotion to education, regard for peace (and its devotees: Gandhi, Martin Luther King, Jr., Helen Keller), and her fairly recent decision to give voice to her experiences. Sachiko and her story, much like the resilient Nagasaki camphor trees she so admires, are an indelible force. Luminous, enduring, utterly necessary. —Briana Shemroske
School Library Journal, starred review
Gr 5-8–Sachiko Yasui was just six years old when the atomic bomb was dropped on her hometown of Nagasaki. On August 9, 1945, she went from playing house with her friends to burying them. Yasui also lost a brother that day and would lose many more family members because of radiation sickness. Growing up, she was ostracized for her status as hibakusha, a bomb survivor. Despite her trauma and the bullying she faced, Yasui endured. She sought out inspiration from the likes of Helen Keller, Mohandas Gandhi, and Martin Luther King Jr. Their works allowed her to make peace with the events in her life. Stelson recounts hearing Yasui speak at a ceremony to commemorate the 60th anniversary of the bombing of Hiroshima and Nagasaki. This event would spark a long and intimate process in which Stelson repeatedly met with and interviewed Yasui in order to tell her story. Frequent historical notes provide context to the events happening in the narrative: Japan's role in World War II, the issue of racism in the war, President Truman's ultimatum, the effects of radiation sickness, the U.S. occupation of Japan after the war, and more. Back matter includes a glossary of Japanese terms used in the book and detailed maps of where events took place. VERDICT This sensitive and well-crafted account of a Nagasaki bomb survivor is an essential addition to World War II biography collections for middle school students. —Deidre Winterhalter, Niles Public Library, IL
School Library Journal, reviewing the audio book, starred review
Chapters that recount the story of her life alternate with chapters of historical overview and facts. This is one of the many outstanding aspects of this book. In the audio version, these chapters are read by two different narrators, Katherine Fenton and John Chancer. The vocal differences among the characters are compelling, and Fenton does a superb job with the Japanese pronunciation.
Caren Stelson met Sachiko Yasui in Minneapolis in 2005 and made five trips to Japan to interview her. While the book contains historical notes, informational sidebars, photographs and maps, most of the narrative is Sachiko's account, magnetic and chilling in its simplicity. Stelson lets Sachiko become the hero of her own story; her quiet survival is an inspiring trajectory of redemption. —Kimberly Brubaker Bradley, author of The War That Saved My Life
The story's first-person account and deep sense of humanity offer young readers a chance to grapple with the hard truths of war. —Trisha Collopy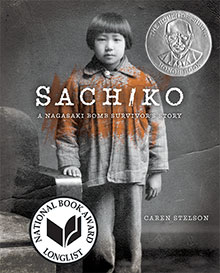 Sachiko: A Nagasaki
Bomb Survivor's Story
written by Caren Stelson
Carolrhoda Books
ISBN 978-1467789035, grades 5-12