A Bowl Full of Peace: A True Story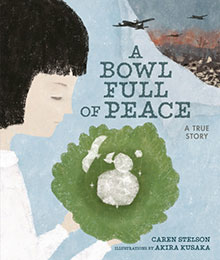 A Bowl Full of Peace:
A True Story
written by Caren Stelson
illustrated by Akira Kusaka
Carolrhoda Books
ISBN 978-1541521483, grades 6-11
In this deeply moving nonfiction picture book, award-winning author Caren Stelson brings Sachiko Yasui's story of surviving the atomic bombing of Nagasaki and her message of peace to a young audience.

Sachiko's family home was about half a mile from where the atomic bomb fell on August 9, 1945. Her family experienced devastating loss. When they returned to the rubble where their home once stood, her father miraculously found their serving bowl fully intact. This delicate, green, leaf-shaped bowl—which once held their daily meals—now holds memories of the past and serves as a vessel of hope, peace, and new traditions for Sachiko and the surviving members of her family.
Lectio Book Award nominee, Texas, 2021-2022
Minnesota Book Award finalist 2021
NCTAsia Freeman Award 2021
Nerdies: Best Nonfiction Picture Books 2020
Wanda Gág Read-Aloud Honor Book
An interview with Akira Kusaka
Kirkus Reviews, starred review
Stelson shares this true story with young readers through a thoughtful, moving text. Kusaka's illustrations are powerful and vivid, bringing readers into Sachiko's experiences and emotions. Their chalky, weathered texture helps to keep the terrifying two-spread sequence that depicts the bombing from completely overwhelming readers. Text and art work together to show the devastating, lasting consequences of war and to convey a message of hope and peace for the future. A heartbreaking but essential perspective on war and survival. (author's note, photos, illustrator's note, further reading)
Stelson's spare, lyrical text is heartrending. Kusaka's digital illustrations have a textured feel, using muted browns and greens for times of peace, and incorporating reds and oranges in times of war. As the family strives to rebuild, the palette lightens again. Soft lines lend a sense of reverence and remembrance, elevating the evocative narrative to even greater heights. Back matter includes author and illustrator notes, which further explain the background of WWII and the impact of the nuclear bomb—plus photographs of Sachiko and her family and further reading suggestions. A powerful entry point for discussing the bombing of Hiroshima and Nagasaki and the importance of peace and disarmament. Stunning.
The Horn Book, starred review
Each evening Sachiko's family gathers around their table in Nagasaki, Japan. Before the Second World War, Grandmother's bowl is the centerpiece of every meal, filled with squid, eel, octopus, and udon noodles; as the war rages on, it contains only wheat balls in boiled water. Sachiko is just six years old when the atomic bomb drops. She survives the bomb, which kills three of her brothers—one immediately, and two later from radiation exposure. Surviving family returns to Nagasaki two years later to find their house in ashes but Grandmother's bowl unharmed—a symbol of survival. Stelson (Sachiko: A Nagasaki Bomb Survivor's Story, rev. 1/17) builds her debut picture book around this one element of Sachiko's story. Kusaka's illustrations effectively focus on Sachiko's family and the ways they used the bowl to create an orderly family life even in the midst of, and after, a devastating war. The ceramic bowl is the focal point of many of the uncluttered digital paintings: placed in the center of a square table, surrounded with formally arranged chopsticks and dishes. This image is repeated through the book, providing the reader with breathing space amidst dark images of war. The bomb itself is powerfully shown as a ball of fire in a series of spreads, with red light glowing through heavy black clouds. The third-person narrative's calm, direct tone and the hopeful ending make this difficult, sophisticated material manageable for older elementary-school and middle-school children. An author's note includes additional information about Japan during the war, international efforts to abolish nuclear weapons, and a brief bibliography.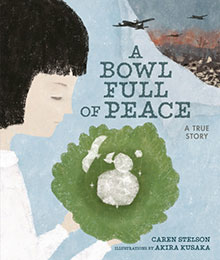 A Bowl Full of Peace:
A True Story
written by Caren Stelson
illustrated by Akira Kusaka
Carolrhoda Books
ISBN 978-1541521483, grades 6-11