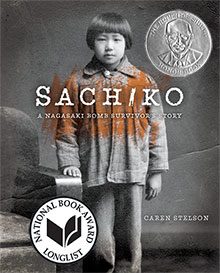 This January, right after New Year's, I traveled to Nagasaki, Japan to fulfill a promise. I would present Sachiko: A Nagasaki Bomb Survivor's Story to Sachiko Yasui. Sachiko and I had been dreaming of this day for a long time.
When Sachiko and I worked together to write her story, she was strong and vigorous. But in late 2013, Sachiko had a major stroke that left her paralyzed on one side. Today, she is confined to a wheelchair in a nursing home, no longer able to travel throughout Japan to tell her story. What would I say to Sachiko when I saw her?
As I flew from my home in Minneapolis to Tokyo, I thought about Sachiko. I also thought about all the people brought together as I wrote her story. My editor Carol Hinz and book designer Danielle Carnito from Carolrhoda Books/Lerner Publishing Group would meet me in Nagasaki. So would my Minneapolis translator Keiko Kawakami, Carol Hinz's father Mike, my daughter Beth, and JoAnn Blatchley and Robert Palmer, two members of the Saint Paul-Nagasaki Sister City Committee. Our delegation of eight from the United States represented our "Sachiko Village" in America. Our Nagasaki friends, also part of the "Sachiko Village," would soon welcome us to their city and host us for the week.
The day after our delegation arrived in Nagasaki, we drove to the nursing home. I stood before Sachiko, showing her the book with her mesmerizing childhood photo on the cover. "This is your voice," I said to Sachiko, as I placed the book in her hands. Your story is being read all over the United States, just as we hoped it would.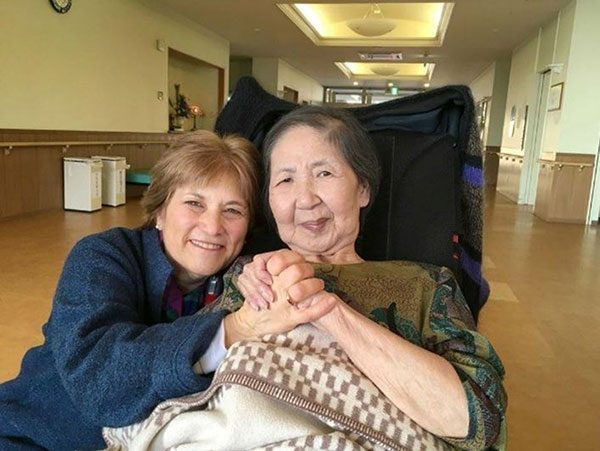 Sachiko held the book in her hands. She and I had come to the end of a long journey begun with our first meeting in Nagasaki in 2010. I looked around at the faces of all of us who surrounded Sachiko—American and Japanese. Our eyes glistened even as we smiled. We were a picture of international peace and friendship. In that moment, I knew I had come to the end of one journey, but I was at the beginning of another. I knew that this work of peace and world friendship had to continue.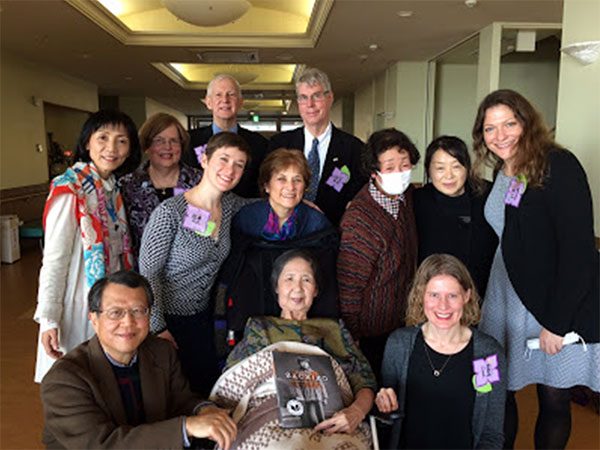 Before I sent in my manuscript to Carolrhoda/Lerner Publishing Group, I asked Sachiko if she had any last words of advice for young people she would like me to add to the page. She did:
"What is peace?
What kind of person should I be?
Keep pursing answers to these questions."
I've been thinking of Sachiko's words ever since I wrote them down. What did they mean for me? That the work for peace is constant. That to be the person you hope to become is an ever-present challenge. If I am to keep pursuing Sachiko's questions, I will need to keep walking the Sachiko path and keep talking out loud as I go. This new monthly blog, The Path to Sachiko: The Journey Continues . . .  will share resources, classroom ideas, programs, books, and experiences I encounter as I share Sachiko's story with others and pursue my own pathways to peace. I hope you will share your ideas with me and together we help our next generation of young people lead the way to world peace.