What is peace?
What kind of person do I want to be?
Pursue answers to these questions.
These were the last words Sachiko Yasui shared with me for our book before I sent in my manuscript to editor Carol Hinz at Carolrhoda/Lerner Publishing Group. Sachiko's words also have been ringing in my ears ever since I wrote them down.
What is peace? What kind of person do I want to be? These questions are a call to action. One action I've taken is to join the board of directors of World Citizen, a Minnesota nonprofit organization that promotes peace education and international peace sites. World Citizen helps any community—schools, businesses, places of worship, parks, even homes become intentional and committed places to practice Five Peace Actions:
Seek pace within yourself and others
Reach out in service.
Protect the environment
Promote intercultural understanding
Be a responsible citizen of the world.
This January 2017, I was invited to do a reading of Sachiko: A Nagasaki Bomb Survivor's Story at Red Balloon Children's Bookshop, a well-known and respected book store in Saint Paul, MN—and an international peace site. A wooden peace pole with a message of peace written in six languages stands in front of the bookshop. What if we combined a reading of Sachiko with a ceremony to rededicate Red Balloon as a peace site? World Citizen members could come to help celebrate. Bookstore owner Holly Weinkauf and events and marketing manager Angela Whited agreed.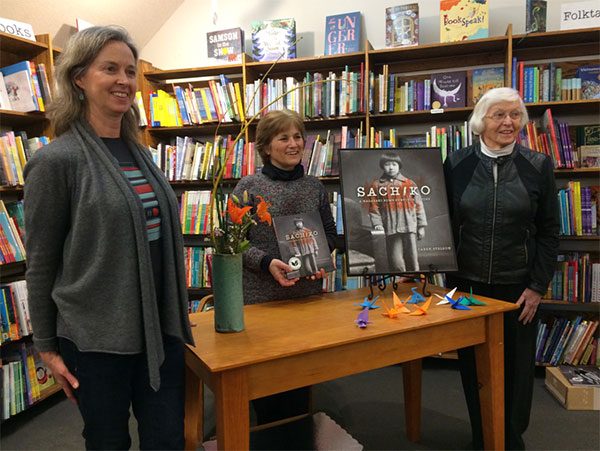 On the Saturday of the reading, an audience gathered at the Red Balloon. I shared Sachiko's atomic bomb survival story, her words of peace, and my own journey writing Sachiko's story. Afterward, we sang peace songs as we walked outside, carrying strings of origami cranes. In the chilly air, Holly spoke to us: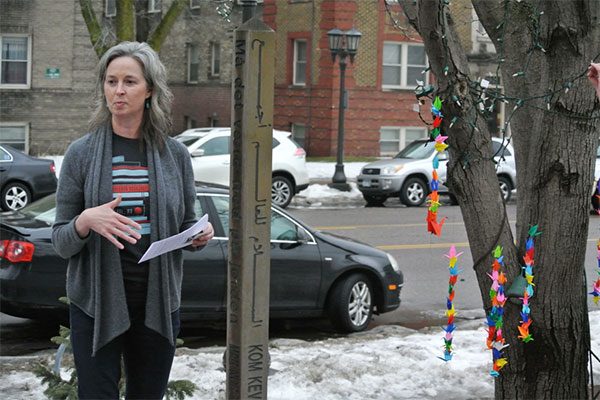 When [former owners] Carol [Erdahl] and Michele [Cromer-Poire] dedicated the Red Balloon as a peace site, they did so in part as a response to local events happening at the time. They felt that becoming a peace site was a way to make concrete something they were already doing, creating paths to peace through books.

Today we are rededicating Red Balloon as a peace site in part as a response to current events, in response to harmful words that have been spoken by public officials, and in response to our current climate of hostility and tensions.

As Carol and Michele knew in 1998, being a peace site is a natural fit for a kids' bookstore. Through books, kids can walk through worlds that sometimes reflect their own experiences and validate their reality. Through books they also walk through worlds where the experiences are very different, and that helps give our kids different perspectives and broader perspectives. Through books, we all gain more empathy and understanding for each other.
Holly is right. We all need to gain more empathy and more understanding for each other.
In our unstable world, we cannot understate the power of books to bring peace.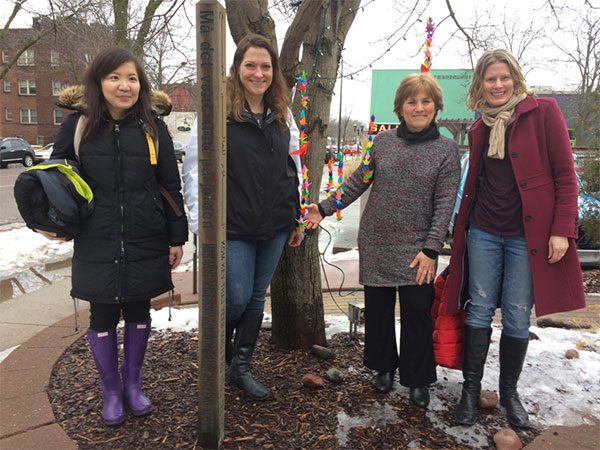 Link: Red Balloon Bookshop's monthly E-Booklist/ Jan 2017, Issue I: Books about peace